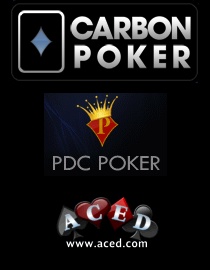 As the end of the year draws near, it would seem that the poker industry is making a lot of changes. Several online poker enterprises stand poised to purchase other poker companies, still others wait for licensing authorization from US states so as to be able to offer legal online poker to the market within that specific region.
Some poker rooms are making deals, partnerships and transitions while others are closing down and some expanding. PDC Poker, a well known and popular poker room, recently announced that it would be moving to Aced Poker. PDC Poker is managed by Carbon Poker.
All the poker player members of the PDC Poker site were emailed about the development and asked to move to Aced Poker. The email stated, "We would firstly like to thank you very much for your time and loyalty at PDC Poker. However, as of Tuesday, December 11th @ 7:00 PM EST PDC Poker will be shutting down and migrating to Aced.com. Your account will be safely and securely transitioned to Aced, which we are excited to inform you will be your new home for poker and online gaming."
Players were also informed that the transition should be smooth and quick and cause hardly any inconvenience. "This migration should only take up to 5 hours and you will be able to login to your account at that point. There will not be any change to your username or password, so you will be able to login with the exact same details you were using at PDC Poker," the email added.
In order to move to Aced Poker, players of the original site have been asked to download the online poker room software from Aced Poker and then install it. The site has specified a maximum time of five hours for the process to get sorted out and claim that players will have no issues after this.