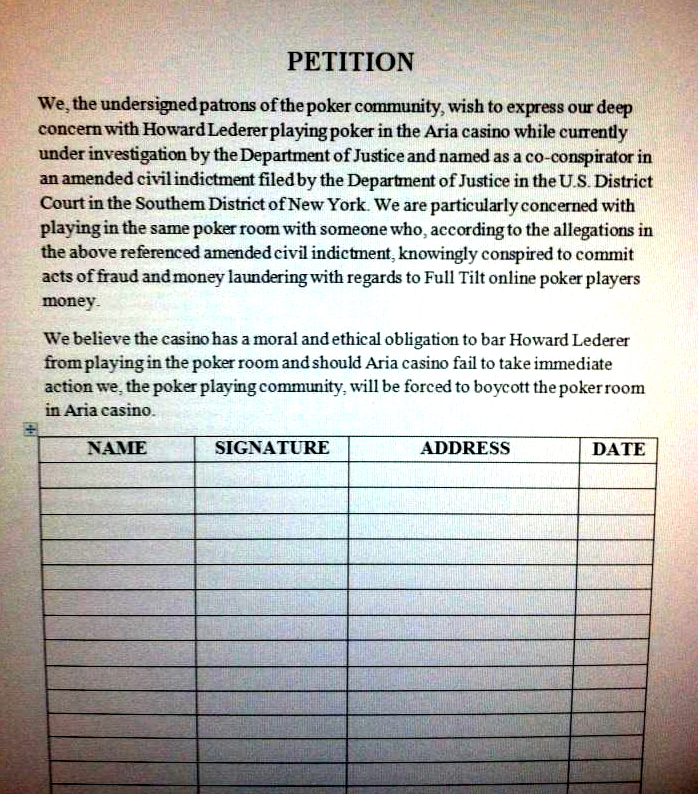 Howard Lederer has fallen far from the status and popularity he enjoyed while he headed and fronted Full Tilt Poker. Now, after Black Friday's affairs, a section of the poker player community does not want to rub shoulders with this man until FTP players get their money back.
Nick DiVella, a regular high roller player at the Aria Poker room has started petitioning other players to have Lederer banned. "We believe the casino has a moral and ethical obligation to bar Howard Lederer from playing in the poker room and should Aria casino fail to take immediate action we, the poker playing community, will be forced to boycott the poker room"
DiVella also posted on Twitter. "He doesn't deserve to play. Maybe this will be the start of a poker black list…From the response I have gotten so far it seems like it will be a huge success."
Leon Wheeler, a manager at the Aria poker room made it clear that the Aria poker room was not looking to ban Howard Lederer. "We haven't taken a stance on (whether Lederer should be allowed to play at Aria). Really, the issue has nothing to do with us," Wheeler said.
However, he did mention that it was a matter of personal safety that Howard Lederer was risking by coming to casinos. When Howard Lederer first began to appear in Vegas poker rooms to play, casinos like Aria received death threats from anonymous people who had a problem with Howard Lederer being allowed to play poker.
While players like Devilla have problems with playing with Howard, Daniel Negreanu is one player who does not. Perhaps he is looking forward to the chance of taking Lederer for all his money's worth. "I have no problem with playing poker with either of them. I don't like either, but don't have a problem facing them at a table."