Tiffany Michelle
Bio of Tiffany "HotChips" Michelle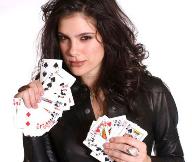 Prior to the 2008 WSOP, Tiffany Michelle was known to the poker world as the reporter for Poker News. The reality is, Tiffany isn't just a reporter, she is also a really good poker player.
Tiffany has been playing poker ever since she was a child. Though most of her life has been dedicated to her acting career, in 2005 Tiffany started to pursue the poker side of her life more and started playing the tournament/casino circuit.
Away from the poker tables, Michelle is also an accomplished actress and singer. Her most recent appearance was in Will Ferrell's hit movie Semi-Pro, where she played a ball girl. She has also been featured on shows like ER and American Dreams. Her singing on the other hand isn't really my taste, and sounds like it needs a lot more work, but if you are interested you can check out her myspace page.
In 2006, Michelle joined Bluff Magazine's WSOP coverage on Sirius Satellite Radio. This is where she earned her nickname "Hot Chips" after a play on MASH character "Hot Lips O'Houlihan", due to Tiffany's fancy chip tricks at the table.
After leaving Bluff, Michelle did some work with Bombshell Poker (which was later purchased by Hollywood Poker). After the passing of the UIGEA she was let go from Hollywood and left looking for work yet again.
Tiffany later started to work with PokerNews.com, where she currently does on-camera hosting. In 2008 her career as a poker player took off, after she went and currently sits very deep in the Main Event at the World Series of Poker.
Tiffany does most of her poker playing offline in tournaments, but has confessed to playing on Full Tilt Poker a few times. Tiffany is still very new to the professional poker circuit and after her cash at the 2008 WSOP, you can expect to see a lot more of this sexy poker star.
Tiffany Michelle Pictures
Tiffany at the poker table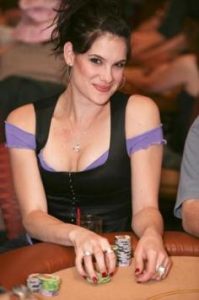 Tiffany Michelle with Danien Negreanu and Mike Madsen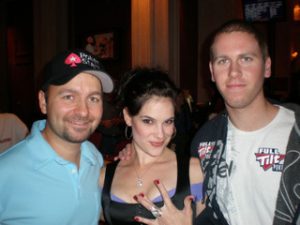 Tiffany Michelle seen working as a reporter for PokerNews.com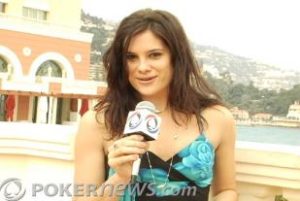 Tiffany Michelle Videos
Tiffany Michelle interviews poker writer Gary Wise
Tiffany Michelle interviewed at the 2008 WSOP Main Event